Chromebooks have a lot going for them, and Apps and Extensions make them even better. Now you can select from a wide variety of apps and extensions in the Chrome Web Store, to make doing the things you want easy. Teachers will be able to explore the store and experiment with Apps and Extensions that make their assignments and workflow that much better.
Apps are typically seen as stand alone programs that run on devices to perform specific functions. For example the apps you use on your smart phone.
Some applications or apps will run in their own independent window. Others simply open a new tab in Chrome and take you directly to their page.
One Great feature of Chromebooks is how App data follows you wherever you login. This is because App information is stored on your account and that information is synced as you make changes.
Apps that are currently connected to your account can be found by clicking the icon at the bottom left of the screen. In the window that appears there is an icon labeled "All Apps." From here you will see all of the apps connected to your account. The picture below is an example of that.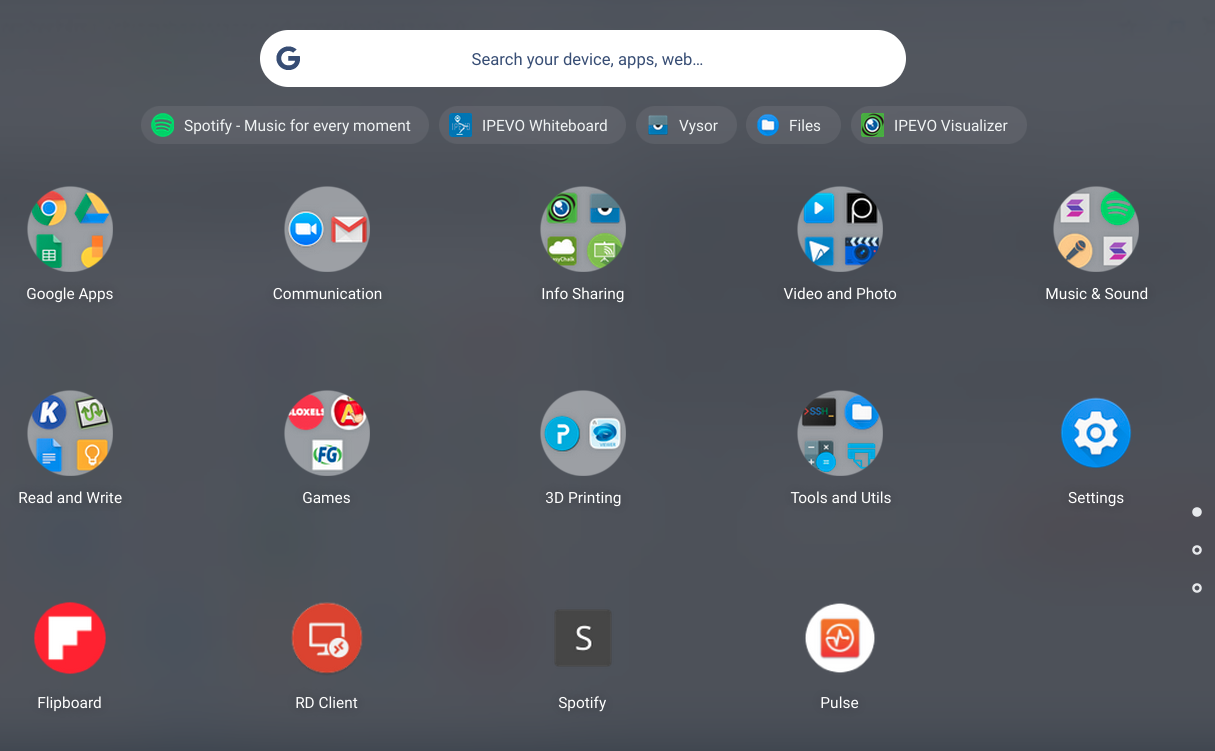 Whereas apps are stand-alone programs that perform specific functions (e.g. FitnessGram tracks exercise and goals), extensions add specific functionality to your internet browser.
The Chrome browser is built into the Chromebook's operating system, and there an increasing variety of interesting and useful extensions.
For educational use, we anticipate extensions like these:
OneTab (consolidates open tabs into a roster, thereby saving memory and cleaning up your browser window)

Ziteboard (turns your browser window into a whiteboard whose contents you can create and share with others)

Nimbus (offers students and teachers the opportunity to record videos and embed them in Google Docs or Sheets, for example, as part of assignments).
Other extensions facilitate printing, working with pdf files, and enabling high-contrast viewing schemes.
As our staff and students explore Chromebooks more thoroughly in the classroom, we will evaluate extensions to complement assignments and tasks.